About
Journal of Religious and Social Studies-JRSS is an open-access, triple-blind peer-reviewed journal dedicated to the scholarly Articles of Religious and Social Studies. The journal publishes original and reviewed research articles and book reviews related to Islamic sciences to promote the flow of ideas, exchange, and discussion of research findings. 
JRSS strives to contribute to academic inquiries by positioning Religious sciences as its main focus and encouraging its contributors to comprehensively consider the different facets of Religious and Social Studies. Contributions are encouraged and welcomed from Pakistan and international academics in Religious and Islamic theology, philosophy, sociology, jurisprudence, contemporary studies, comparative religion, spirituality, Qur'anic and Sunnah studies, Religious history, and art, Psychology with religious perspectives, socio-economic problems, socio-religious paradigms and reviews of most recently published books.
JRSS aims to provide a forum for the study of religious and religious societies in a global context with added focus on the Pakistan region. It also encourages interdisciplinary studies of the Islamic world that are cross-national and comparative to encourage interaction among academics from relevant and various traditions of learning.
JRSS publishes at least two volumes per year. Journal items are published collectively, as part of an issue with a table of contents. Special issues of the journal will be also published and are overseen by guest editors, accordingly.
​Please, refer to the guidelines before submission in the Style Guide. For more information visit Authors Guidelines.
Current Issue
Vol. 2 No. 02 Jul-Dec (2022): Journal of Religious and Social Studies-JRSS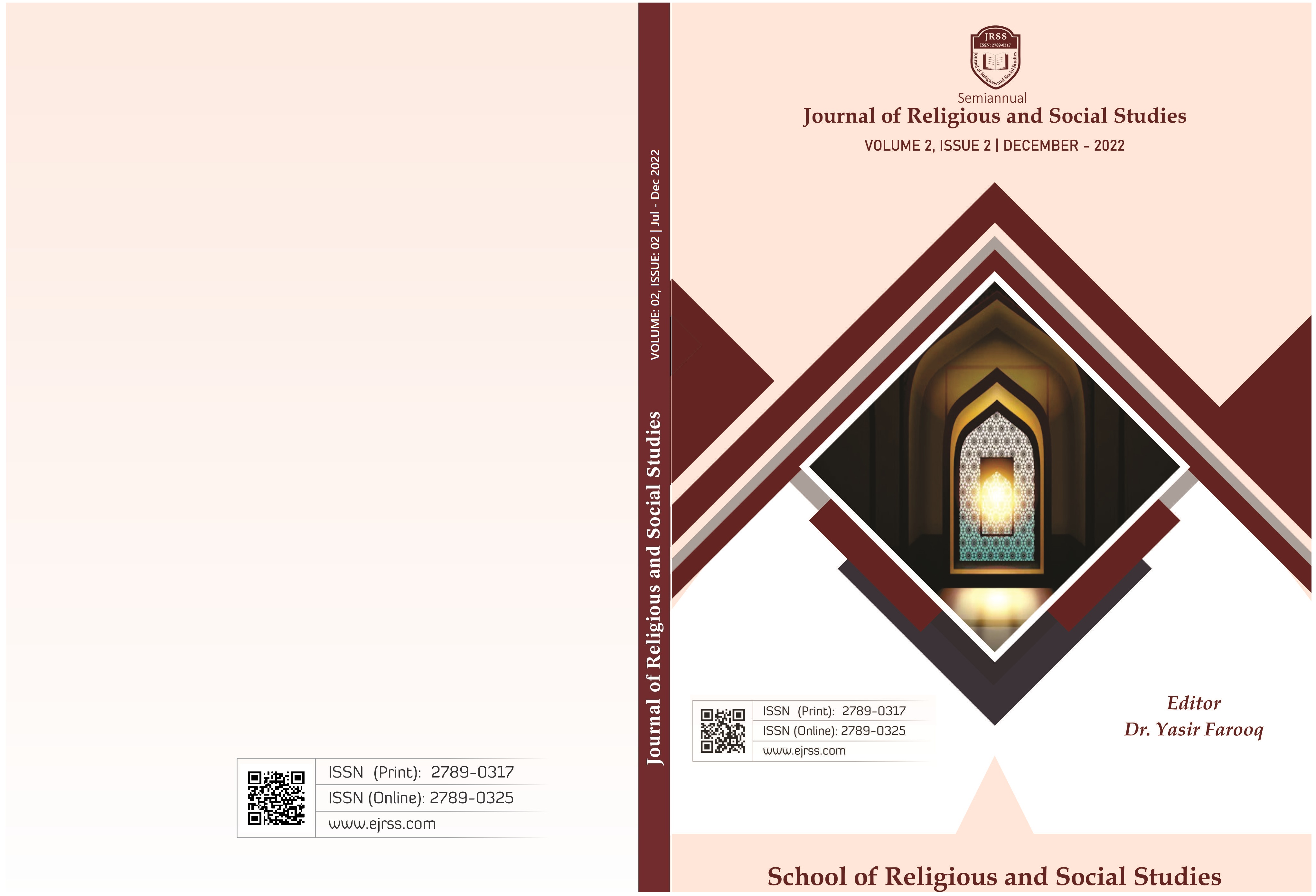 The Journal of Religious and Social Studies (JRSS) is a Triple-blind, peer-reviewed publication that brings out thoughtful original research of interdisciplinary nature with a focus on various interrelated areas of religious studies, theology, and Social studies. While aiming at the scholarly study of Religions and the Religious world it covers all other areas of knowledge ranging from history to developmental science apart from dealing with ethical questions. It also tends to make an in-depth inquiry into Islam and provide a forum for global Religious societies by promoting diffusion, exchange, discussion of research findings, and interaction among academics from various areas of learning. It pursues an approach where scholars from different Schools of Thought can contribute towards promoting common grounds. It seeks to encourage interfaith and Intra-faith understanding which will eventually bring harmony to society.
View All Issues
Semiannual Journal of Religious and Social Studies-JRSS (pISSN: 2789-0317) was initiated by the School of Religious and Social Studies -SRSS, Faisalabad, Pakistan in 2021 for research production in Religious and Social Studies and to accelerate the skills of researchers with a devotion. JRSS is an international scholarly journal, publishing peer-reviewed studies of religious thought and practice. It is available online to promote critical, hermeneutical, historical, and constructive conversations. JRSS promotes interdisciplinary approaches to any of the world's religious/spiritual traditions. JRSS aims to serve the interests of a wide range of thoughtful readers and academic scholars of religion, as well as theologians, philosophers, social scientists, anthropologists, psychologists, neuroscientists, and others interested in the multidisciplinary study of religions.